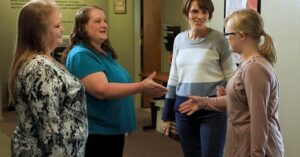 We are hiring a full-time Employment Specialist, tasked with assisting individuals in meeting their vocational goals. As an Employment Specialist, you will:
1. Provide assistance with job search, placements and support maintaining employment to individuals with disabilities
2. Identify potential employer partners, training and evaluation programs with specific emphasis on appropriate opportunities for job seekers in our programs
3. Present our program model to prospective employers, positively representing the organization at all times
4. Develop strong relationships with employer partners and facilitate activities with employers including site visits, informational interviews, recruiting events, career presentations, facility tours, job fair participation and other employment related activities
5. Assist participation with preparation of job search documents such as resume and job applications
6. Effectively match job seekers to available opportunities
7. Document all program activity, employer outreach and job placements on a weekly basis while accurately tracking and monitor employment data and job search activities
8. Assist participants with job duties as needed and guide them to become as independent as possible
Applicants must have a valid driver's license, current car insurance, a reliable vehicle and the ability to pass a Criminal History background check.
Experience working with adults with a developmental or mental disability is preferred but not required.
We provide company paid health insurance, paid personal leave, paid holiday, and opportunities for advancement within the organization.
We also offer bonuses and growth opportunities that are awarded based on work ethic and sound judgement.