Embroidery Machine Operator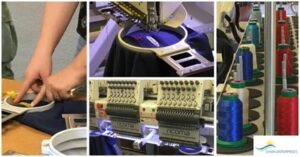 The Embroidery Operator is responsible for operating a multi-head Embroidery machine to process customer requested specialty orders including shirts, jackets, caps, or other apparel. Other responsibilities will include sublimation and heat press processes.
What You'll Do:
Efficient and safe operation of multi-head embroidery machinery.
Consistently meet productivity and error rate goals.
Maintain understanding of the standard operating procedures in the department.
Verify accuracy of order and decoration details.
Responsible for the quality of the end decorated product.
Handle the proper placement of design, hooping, and thread colors.
Enter design data and load threads into the machine to run jobs.
Maintain high productivity and quality output, meeting or beating established expectations and goals.
Make necessary machine adjustments and perform routine service with minor downtime.
Maintain a clean, well-organized work area, and adhere to safe work practices.
Other departmental tasks assigned.
We're looking for skilled, experienced, and hardworking applicants who share our core values and care about things like setting high goals, teamwork, integrity, accountability, quality, and a commitment to customer satisfaction.
What We Need from You:
High school diploma or equivalent
Ability to stand for an extended period while using hands and arms
Ability to work safely with moving machinery
Ability to read, write, and speak English with strong written and verbal communication skills
Learn tasks quickly
Detailed oriented with a high standard of quality and a personable, team player
Punctual with excellence in attendance and the ability to work overtime as needed
Candidates are required to see and differentiate colors for accuracy in inspecting the product during and after being processed
Able to apply common sense and strategic thinking in a fast-paced manufacturing environment
Self-motivated, with the ability to work with minimal supervision or direction
Strong organizational and time-management skills
Ability to manage priorities and workflow
Versatility, flexibility, and a willingness to work within constantly changing priorities
Ability to understand and follow written and verbal instructions
Physical Activity
While performing the duties of this job, the employee is regularly required to sit, stand, walk, talk, speak or hear
We are an Equal Opportunity Employer
We will ensure that individuals with disabilities are provided reasonable accommodation to participate in the job application or interview process and to perform essential job functions.
Dental insurance
Health insurance
Paid time off
Holiday pay