Commercial Sewing Equipment Technician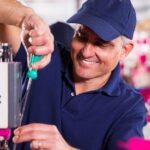 The Commercial Sewing Equipment Technician is responsible for conducting machine setup, troubleshooting, repairs and performing preventive maintenance on sewing production equipment according to safety, predictive and productive maintenance systems and processes to support the achievement of the site's business goals and objectives.
Essential Functions
• Conducts machine setup, troubleshooting, repairs and preventive maintenance service.
• Provides emergency/unscheduled repairs of sewing production equipment during production and performs scheduled maintenance repairs of sewing production equipment during machine service.
• Prepares and sets up sewing machinery for scheduled production runs.
• Performs, but not limited to, mechanical and pneumatic troubleshooting and repair of production sewing machines.
• Reads and interprets equipment manuals and work orders to perform required maintenance and service
• Complies with OSHA Safety and Health rules.
• Responsible for working according to the company's safety and quality standards.
• Maintains a safe and clean work area.
• Performs other related duties as required and or as assigned.
• Must be detailed oriented
Training, Skills and Experience Requirements
• High school diploma/GED and completion of a craft apprenticeship, or an equivalent number of years of education and equipment maintenance experience.
• 3+ years of machine/mechanical experience, mechanical skills with some troubleshooting skills
Please note job duties can change and all duties to be performed may not be listed.